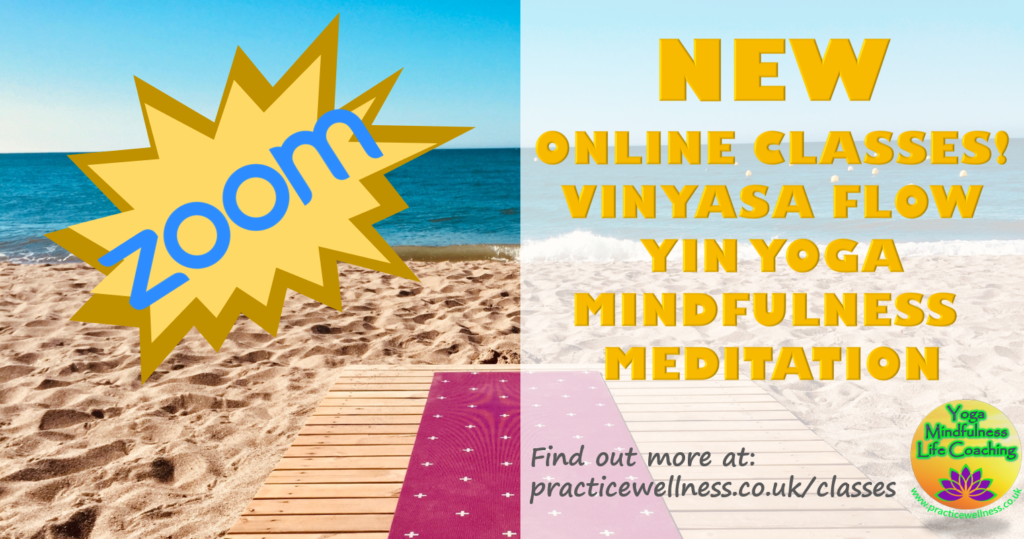 Dynamic vinyasa flow, calming yin yoga and mindfulness meditation coming soon to a screen near you!
Starting last week of December 2020, I will be offering yoga and mindfulness classes via Zoom which are particularly good for stress relief. For those of you who don't fancy a treck to the gym or studio in the current weather, this should be a great alternative.
More great news is that your first yoga class is completely free and mindfulness meditation class is on donation. All of the classes are suitable for beginners to intermediates. Bookings are available on Eventbrite (drop-in) and Ribbon (drop-in and class-pass). (Contact me direct for your first free class.) See table below for more information.
"I really felt I have learnt so much from Sossi and am able to incorporate it into my meditation which I now do on a daily basis. Her communication is excellent and I cannot recommend her enough." Catherine (Spain, 2019)
"I have been practicing yoga for more than 15 years, and I can really say that this class was brilliant!! I highly recommend Sossi." Ivonne (Bristol, 2019)
"An excellent teacher! Sossi's yoga sessions are always varied and flowing, suiting different levels of ability. She creates a calm environment to practise yoga safely and confidently." Mari (Bath, 2020)
For more reviews please go to my Reviews page.
Class
Dates & Times
Duration
Payment
Dynamic Vinyasa flow for stress relief
Saturdays (11:15 GMT) and Wednesdays (18:30 GMT)
60 minutes
first class is free;
drop-in class £7;
5 class pass £25
Yin yoga for stress relief
Sundays (11:15 GMT) and Thursdays (18:30 GMT)
60 minutes
Same as above, can be used in conjunction
Mindfulness meditation for stress relief
Tuesdays (18:30 GMT)
45 minutes
on donation (or free if you have been financially affected by current situation)
What is vinyasa flow?
Vinyasa flow is dynamic and the focus is on breath, fluidity, agility, strength and balance. As well as sun salutations, my vinyasa classes usually include elements of meditation, warrior poses, balances and inversions; and occasionally moon salutations. My vinyasa flow classes are great for stress relief.
"Vinyasa is a type of yoga that links movement and breath to attain balance in the mind and body. From the Sanskrit "to place in a special way," vinyasa aligns a deliberate sequence of poses with the breath to achieve a continuous flow. Inhalation is usually connected to upward, open movements, while exhalation is often tied to downward movements or twists."

Yogapedia.com
What is yin yoga?
Yin poses are designed to work on a deeper level – physically, mentally and emotionally. We stretch the muscles and connective tissues, improve the flexibility of our joints, balance the two hemispheres of the brain working with the meridian lines of the body as well as prana (the body's vital energy). Just like the vinyasa classes, my yin classes are great for stress relief.
"Yin is a slower-paced, more meditative version of the popular physical and spiritual discipline of yoga. In Yin yoga, the poses are held for a long period of time (typically three to five minutes or longer) to target the connective tissues (such as the ligaments) rather than focusing on the muscles. As a result, the asanas are more passive holds, with little muscular engagement."

Yogapedia.com
What is mindfulness meditation?
Mindfulness is the state of total awareness of the present moment. Mindfulness meditation is the use of a set of techniques to train the mind to focus on the now through breathing, mental imagery, self-awareness and relaxation. The benefits of mindfulness have been scientifically documented, and include stress and anxiety relief, improving heart conditions, lowering blood pressure and improving sleep. In general, mindfulness provides a sense of overall well-being.
What is Pranayama?
Pranayama literally means life force technique – it's yogic mindful breathing great for expanding the lungs' capacity, improving your respiratory, circulatory and immune systems! There are different types of pranayama, and the ones we usually practice in my classes are Savitri and Anuloma Viloma. Learn more about the importance of yogic breathing in my blog.
Looking forward to practicing wellness with you! Any questions, please let me know.
Sossi
Yoga Teacher & Life Coach