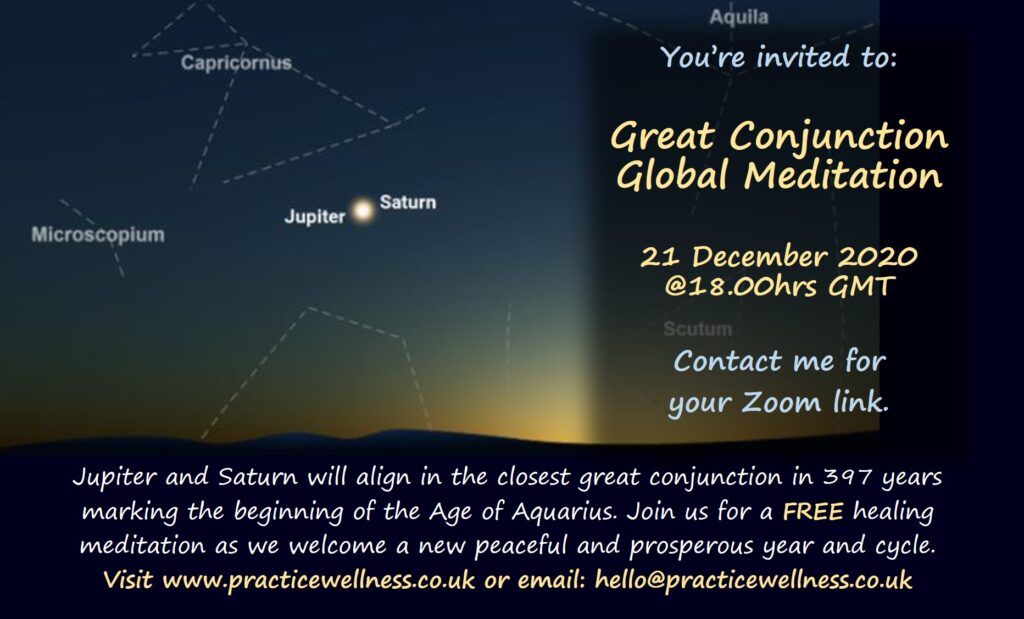 Invitation to global meditation on 21 December (solstice day) when Saturn and Jupiter align in the "closest great conjunction" in 397 years.
The special astronomical event is expected to happen at 18.20 UK time. There are calls all around the world to come together to meditate on this day, to take advantage of the positive energetic shift taking place on our planet due to the impact of the great conjunction, as we move towards the Age of Aquarius. We are encouraged to remove fear that has gripped our planet for much of this year and fill our minds, emotions and bodies with the high vibration of love and compassion. So please join me for a healing and uplifting meditation session on Zoom at 18.00 UK time on 21 December.
I would also like to encourage you to set aside this day for peaceful quiet meditation and to remind yourself to send loving thoughts to all of humanity. I hope that you will join me for this event. Feel free to RSVP on Eventbrite, Yogatrail, Facebook or via my contact page (links below); and I will email you a Zoom link closer to the date.
P.S. This event is FREE.
May you be well and happy.
Sossi 🙂
Bookings:
Eventbrite: https://www.eventbrite.co.uk/e/great-conjunction-global-meditation-tickets-131784359567
Yogatrail: https://www.yogatrail.com/teacher/sossi-yohannes-7828765/schedule?week=2020-W52
Practice Wellness Contact page: http://practicewellness.co.uk/contact/
Facebook: https://www.facebook.com/events/853850125368637/
For more information on the conjunction, visit:
https://www.timeanddate.com/ast…/planets/great-conjunction