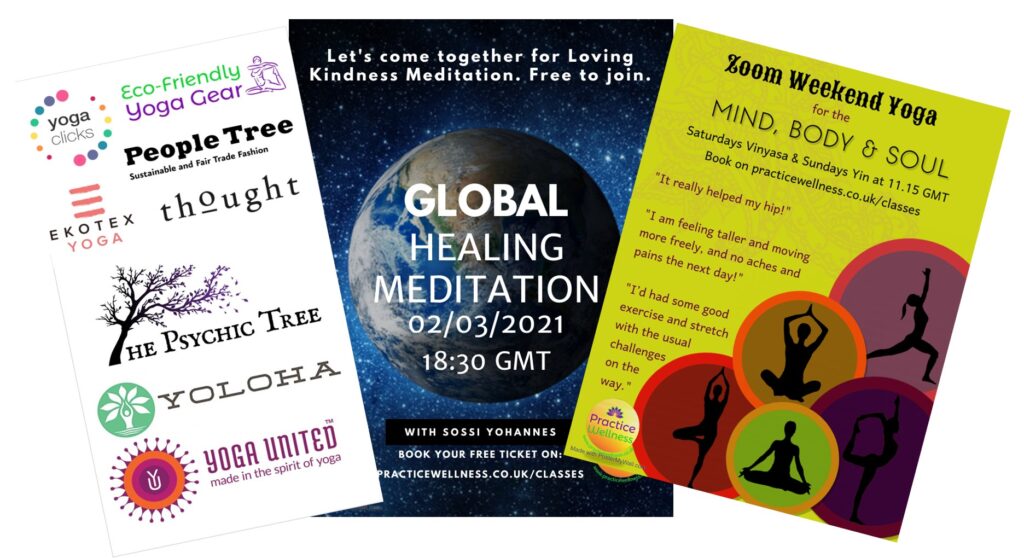 Happy Monday and happy new month of March! Here's a brief rundown of what's happening at Practice Wellness.
Global Healing Meditation, free event on 2nd March 2021
This will be our third instalment of Global Healing Meditation when we gather together on Zoom to send healing thoughts to people around us and around the world, recognising that a lot of us could benefit from positive thoughts and emotions at this point in time. We will also practice different types of meditation which you can practice later in your own time. Please join us on Tuesday 2nd March at 6.30pm UK time. Book your free spot on Ribbon and please share with family and friends. The more people we have, the stronger the energies!
Life Coaching – are you ready for change?
For those of you who are going through big changes, ambivalence and the all too common self-sabotaging patterns, you are not alone! These are within coaching remit which I have been trained on and have experience in as a coach; and which I am very passionate about. Coaching is a practical and holistic approach to the everyday challenges that we face and is highly effective. Effectiveness is determined by the level of commitment and effort that both parties, the coach and coachee, put in. So, if you're ready for change and are prepared to put in the time and effort, contact me for a free 30-minute consultation session and we can start rolling the ball. I stand ready to help you make the changes and get through the challenges. Read about my coaching offer, background and reviews on my Coaching page.
Eco-friendly Yoga Gear – stunning designs and discount codes
EFYG is now part of Practice Wellness. There's now a section on the website with links to providers of beautifully designed and environmentally friendly yoga clothing and accessories. I have chosen to promote these inspiring entrepreneurial yogis as an affiliate, some of whom offer up to 10% discount with codes you can get from my site. Why not have a look? You will find unique and stunning designs of yoga mats and a temporary sale at People Tree (20% off everything, ends on 2nd March). Visit EFYG now.
Weekend Zoom yoga classes – check out my last blog
In case you missed it, you can read my last blog on 'top tips for your zoom yoga' which may be especially helpful to those who are new to online classes. Contact me if you'd like a taster class. There are no terms or conditions and no payment needed. Catch up with my last blog.
That's all for today. I'd love to hear from you with any questions or comments. Feel free to add your comment below or email me from my website.
Have a great week!
Sossi
Yoga Teacher & Life Coach