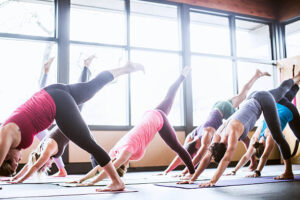 Yoga Classes
I am pleased to announce that I have resumed classes at Bath Sports & Leisure Centre. Join my vinyasa flow classes on Saturdays and yin yoga on Sundays, both at 11.15am. Book via the Better-UK app (easier) or online.
And I continue to teach privately so if you wish to book private classes at home, the office or in the park, please send an enquiry through the link 'Make an enquiry' below.
New pranayama and meditation classes at 6.30pm UK time every Tuesday! Come top up your oxygen intake using pranayama!
Book your place on Eventbrite, MoveGB, YogaTrail or on Facebook. Or send me an email from this website!
Pranayama literally means life force technique – it's yogic mindful breathing great for expanding the lungs' capacity, improving your respiratory, circulatory and immune systems! There are different types of pranayama, and the ones we will be practicing in these classes are Savitri and Anuloma Viloma. Learn more about the importance of yogic breathing in my blog.
In addition to pranayama, we practice different meditation or mindfulness techniques such as Loving Kindness Meditation. Learn more about this incredible meditation technique in my blog 'How to practice Loving Kindness Meditation'.
PLEASE NOTE: After you book, I will send you a Zoom invitation link and password. These classes are around 30 minutes long. They are free or on 'pay if you want' basis, either via Eventbrite, MoveGB, PayPal or bank transfer. Looking forward to seeing you on Zoom!
Tuesday classes start 7 July. You can book via Eventbrite, MoveGB, YogaTrail or on Facebook. Or send me an email from this website!
Mindfulness Classes
I would like to offer visitors to my site free audio recordings on mindfulness to help with your new or ongoing meditation practice. I will continue to add more in the next few days.
If you enjoy the audio recordings, kindly donate to paypal.me/sossiyoga/5 (or any other amount you wish – simply change the number at the end of the web address). Any amount is gratefully received. You can also donate via bank transfer. Please ask for details if you prefer the latter.
Life Coaching Workshops & Downloads
Whether it's one to one coaching or personal development workshops you're after, you're at the right place. I enjoy supporting people who are at a turning point in their lives – a time when non-judgemental listening and professional questioning techniques are most required. My workshops are on communication skills within a coaching context, and identifying personal values and life purpose using fun and creative methods.
I have standard and premium coaching plans to suit everyone on YogaTrail.com and they all include a free no-obligation 30-minute consultation, an initial informal chat about your goals and expectations. Read all my reviews on my site and contact me to arrange your free consultation.
I am pleased to offer visitors to my website free self-coaching tools.
Introduction to Life Coaching. Below is a free downloadable slidepack from a workshop I ran on Facebook in September 2019. Learn about the key skills of a coach, differences from mentoring, what Neuro-linguistic Programming (NLP) is – plus grab some free self-coaching tools.
Here is a useful self-coaching tool – the Wheel of Life to help with your personal development journey. Download, complete, learn, improve and test yourself again in a month's time. Let me know if you have any questions in relation to the Wheel of Life or any coaching tools provided here.